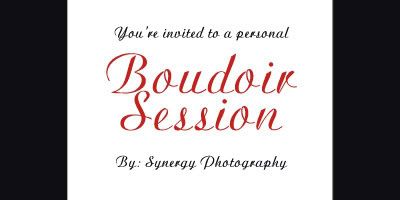 UPDATE: Boudoir marathon BOOKED! Please email me though because if there is enough interest, I might do another marathon before 2010.
Introducing our first boudoir session on Saturday, March 28th. The word "boudoir" is from a French term meaning a woman's bedroom, dressing room, or private sitting room.

Boudoir photographs are not so much about revealing "everything" as they are about revealing just enough to show true feminitiy. You don't have to be flawless or a model to have an amazing session. Use these beautiful pictures to surprise your groom on your wedding day, as a special gift for his birthday, or maybe even as a sexy maternity session.

Details:
$100
$50 if you are a Synergy Photography 2008-2009 bride!*
1 female photographer (Kristen)
Up to 1 hour session at the Hyatt Regency down town!!!!
Up to three lingerie changes
PLUS: a FREE CD with copyright release of up to 50 images!!!
(Note: Your pictures will NOT appear on the blog or website...you may select one or all of your pictures to be featured on a password protected sample gallery for other interested female clients to veiw.)

Please email with questions or to sign up at lifesnotstaged@yahoo.com. I will confirm your appointment and send you a list of essentials for this hot session!

*Prices are good for this date ONLY!! First come, first serve. The day is limited to SIX clients!