Arco Lawn Equipment
hosts semi-annual customer appreciate days! There are prizes, drawings, activities, food, and great new product demonstrations. I love companies that give back to their wonderful customers!!! Here are some pictures from the October "Arctober Fest..."
This was one of the coolest things I have seen at an Open House...carvings made with a Stihl chainsaw.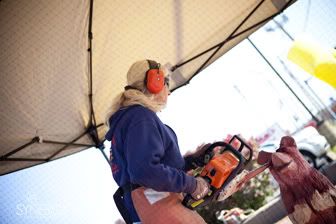 Displays...
Helping a customer getting help in order to sign up for a free prize give-away!
Grace and Zach.