I have known the Schierdings since before their first child was born. I met Bruce and Katy at their maternity shoot when Katy was pregnant with Caroline. I have loved meeting up with them since then for some fun famiy sessions. I was so excited when I ran into Katy at
Chick Fil A
(yes, I love that place!!!) and was estatic to find out that she was expecting baby #2. I got to do Katy's maternity session again...but this time, while she was pregnant with Gabby. Now, little Gabby has arrived. I got to meet her and take pictures again of the whole family. Check out some of my favorites of that wonderful day!
Seriously, she was such a doll!!! The top left shows her sweet little blanket and the right picture shows off her gorgeous hat. Katy picked out a perfect hat for this session, for sure.
10 sweet little toes...
Caroline...BIG SISTER now! So glad I got to get some pictures of just Caroline during the session. Look at that sweet smile!
The new family of 4 with Bruce's parents!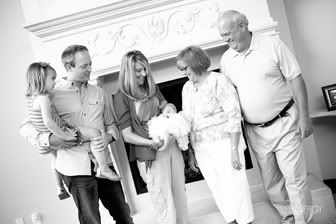 LOVE this photo! Sweet Caroline loving on her sister! Precious!
The girls!
Daddy and his two precious girls:
I love this new addition to my props...the bear hat...1st time using it!
FAV. of the day!
Schierdings, it was wonderful seeing you all again! Take care, and know that I look forward to seeing you all again soon!